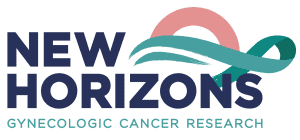 The GOG Foundation, Inc. (GOG) is a not-for-profit, 501C3 organization based in the United States with the mission of transforming the standard of care in gynecologic cancers. The GOG Foundation is committed to maintaining the highest standards in clinical trial development, execution, analysis and distribution of results and promotes awareness for gynecologic malignancies through communication, education and clinical trials.
The New Horizons Gynecologic Cancer Research Fund is the philanthropic arm for The GOG Foundation, Inc. Donations allow the GOG to enrich efforts to develop and deliver essential research tools needed to further clinical trial development and translational research programs.  Donations from individuals, corporations and foundations directly fund the GOG educational and research initiatives. Together, we collaborate with industry to find new treatments, more effective prevention while promoting excellence in scientific research in the field of gynecologic malignancies.
Your Gift Makes a Difference!  With a focus on clinical trials, scientific research and development, we are closer to a cure.  Each donation received will go directly to provide:
Much needed resources to effectively work towards the prevention and treatment of gynecologic malignancies
Accessible research funding
Ability to mentor New Investigators through fellowship awards
Opportunity to raise public awareness through education and research
Translational medicine initiatives across the disease committees
Your Donation Options Are Limitless
You may donate in your own name, your business' name, "In Memory of" or a donation in the name of a specific person you would like to recognize.  All donations are tax deductible.  The GOG Foundation Federal Tax ID# 03-0466352.
To make a donation using PayPal or Credit Card, please click the Donate via PayPal button below. If you would like us to notify the family of your online donation, please provide the family contact name, address, and email in the optional note field while completing your donation through PayPal.
To make a donation by Check, please click the By Mail option below for instructions.